Your girlfriend's got talent is the second episode of =3.
Your girlfriends got talent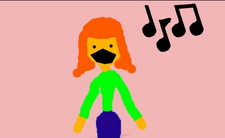 Videos Reviewed
Edit
The graphs and pie charts to figure out what the Smoking Guy's doing says "He's old" and "He's wierd".
Smoking Guy was terminated due to repeated or severe violations of our Community Guidelines.
Comment Question of the Day
Edit
...today's question comes from a user named KickAssChick69, and they said:


Why do guys like boobs?