YourFavoriteMartian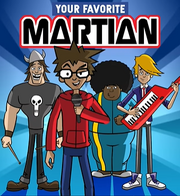 was Ray's second channel wear he posted cartoon music videos. It has been inactive since mid-2012. Ray announced that the channel will stop for a few months and after the break, they will release an album. But since then, they haven't used it or talked about it until the RunawayPlanet vlog "Chasing Cats" where Ray said that the album was cancelled. The possible reason could be because of Ray leaving "Maker Studios", where YFM was made. The YFM album was mentioned to be in the Winter of 2012.
Ad blocker interference detected!
Wikia is a free-to-use site that makes money from advertising. We have a modified experience for viewers using ad blockers

Wikia is not accessible if you've made further modifications. Remove the custom ad blocker rule(s) and the page will load as expected.