World's Greatest Ninja is an episode of

.
World's Greatest Ninja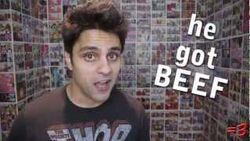 Videos Reviewed
Edit
Man Chased By Cow
Walk Away Before Crash
Bottles Beware
This is the first episode to be released after Ray's retirement from Maker Studios.
Because Ray left Maker Studios, this was filmed at his house until he was done making his own studio at Papertown.
Ad blocker interference detected!
Wikia is a free-to-use site that makes money from advertising. We have a modified experience for viewers using ad blockers

Wikia is not accessible if you've made further modifications. Remove the custom ad blocker rule(s) and the page will load as expected.