RWJ vs. Smosh is a crossover of RWJ and Smosh. This video celebrates Smosh beating RWJ at #1.
RWJ vs. Smosh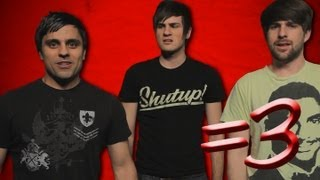 Videos Reviewed
Edit
Chubby Kid Home Run
Automatic Toilet (reviewed by Ian)
Jazzercise (reviewed by Anthony)
Ian's Version of =3
Edit
Ian has a hairstyle resembling Ray's hair. He says that he's Ray. He reviews the toilet video. Then he makes his own version by replacing Ray with Smosh while their heads are on the toilet. When Ian says "HOLY SH*T!", it cuts to Anthony and Ray. Anthony says "I got a little kid here with me man" and Ray says "What?".
Ray's Version of Smosh
Edit
Anthony: Hey, Ian!
Ian: Hey, Anthony!
Anthony: This is pink! Isn't that funny?
Ian: (random scream)
Anthony: POKEMON!
Ian: FOOD BATTLE!
Anthony: EVERY F**KING YEAR!
(both cry randomly)
Shut Up! Opening
Edit
"Our audience is made up of 9-year-olds! SHUT UP!"
Subscription Ending
Edit
"Thanks for Watching! And don't forget to subscribe! Check out our second channel! And check out SmoshGames! And check out Smosh's Cartoon Channel! And check out Smosh in Spanish! And look at our website for Behind-the-Scenes, Bloopers and Extras! And check out Smosh Merchandise! And don't forget Smosh Facebook! And check out Smosh Twitter! And Subscribe to Smosh Make-Up Tutorials! And buy Smosh T-Shirts! And buy Smosh Bobbleheads! And buy Smosh Toob-Socks! And read Smosh magazines!"
If you click an annotation, it takes you to a video called "the gayest guy you will ever see in your life".
This Marks The 2nd Appearance Of Ian Hecox Mocking Ray
This Is A Sequel To Smosh's Hot Robot Slave(Which Ray Appeared At The End)